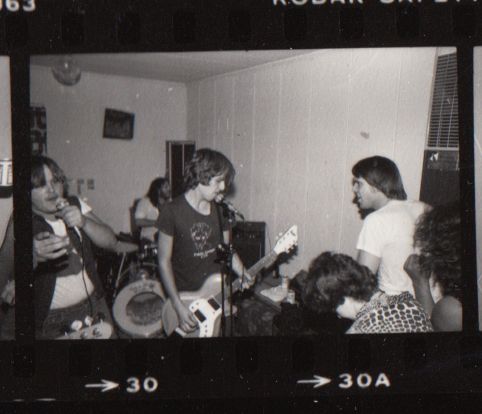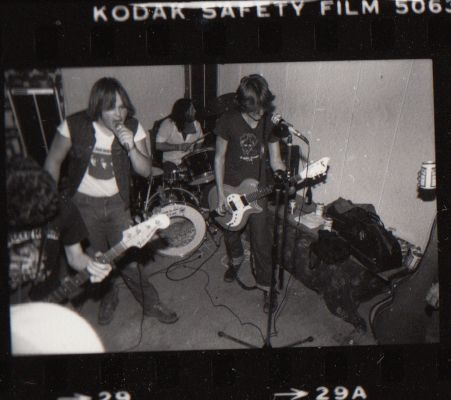 In a fairly recent Zoom hang including myself and my buddies Chris, Robert, Nolan and Rick, a discussion arose over a re-creation pic I did of the promo photo that was taken of 7Seconds for the 'Ourselves' album. The original shot was taken outside of a catholic church in Midtown Sacramento by photographer John Muheim.

It was decided that we would return to that photo location and I would shoot Chris, Rob, Nolan and Rick posing as the band for fun.

Well, yesterday, we all met up there and both Lori (Chris' lovely wife) and I started snapping pics. Lori's shots can be seen on Chris, Rob, Nolan and Rick's social media pages and I decided to post my pic (I picked my favorite of them) exclusively to my page here for my DFC people.

I hope you get a kick out of it :)
The original 7Seconds 'Ourselves' promo photo, taken by John Muheim.

From a bunch of journal entries I may or may not ever turn into some sort of book....

In 1991, I was finally able to put together a side band project that would become my first Sacramento band. I played guitar and sang and enlisted my pals Chris Carnahan (then 7Secs guitarist) on bass and Brent Spain (from Sac hardcore band Inner Strength) on drums and after about 10 different name changes (Total Shrine, Shove Bang Mecca, etc. etc.), we became Burn, Baby, Burn, a name suggested to me by Restless Records chief David Gerber. 
For months, I had been fervently writing songs  and we ended up with  a 12-15 song set ready to go. Now we just needed to get our first gig booked. Around this time, I was living  all over Midtown Sacramento. Studio apartments, motels, with friends, sometimes I crashed in my van but wherever I was staying, I always seemed to be just around the corner from where Jerry and Linda Perry lived and since Jerry and Brian McKenna were booking and running things at the Cattle Club (Sac's best all-ages music venue), I would occasionally drop by to shoot the shit and hand him a demo of the new band.  I made sure to tell him that I was not looking for any sort of special treatment just because I was in 7Seconds. I didn't care about money or where we would end up on the bill. I just wanted Burn Baby Burn to start playing in front of some crowds.  Jerry assured me that he'd get BBB on a show. 
Meanwhile, I kept seeing announcements of cool upcoming bills with all of the best local bands and visiting touring acts and wondered if Jerry had forgotten about us.  I continued to hit him and Brian up but nothing came to fruition for quite some time and I was starting to get discouraged. At some point, there was talk of putting BBB on a bill with Redd Kross which would have been super but that fell through.

We had played some basements shows and even got a gig at Gilman but I had avoided offers of playing at some of the other local bars because I only wanted to play all-ages shows . Finally, Brian offered BBB a spot on an upcoming show, opening for Seattle's Alice In Chains who were right on the verge of becoming really big. They were touring with a new Seattle band called Mookie Blaylock featuring  members of Mother Love Bone. At the time, I wasn't sure how well of a fit we were. We didn't sound much like a punk or hardcore band but we also didn't sound much like a hard rock or metal band either. 
Fuck it. I said yes right away. 
The date was February 16, 1991 and I don't remember much about the show, to be honest. We ended up opening the show and got a great reaction, thanks to all of our various friends who came out to cheer us on.

Mookie Blaylock were excellent and I watched their entire set, mildly blown away. At some point during their set, their singer Eddie tore off his shirt, found a sharpie and scrawled out 'BURN BABY BURN' on his sweaty chest and gave us a nice shout out.

I caught a few Alice In Chains songs but was more enamored of Pamela, one of the Cattle Club door girls and spent most of their set gabbing with her.

Not long after that show, Alice In Chains would blow up and Mookie Blaylock would become Pearl Jam and basically, take over the world.

Burn Baby Burn would change it's name to Drop Acid and end up with a revolving door of amazing members, including Sonny Mayugba from Sac's Phallucy, Doug Calvert, Sean Schroeder from Davis, California's 99 Tales, Matt McCord from Sac's Tinfed) and even Stephen and Abe from Deftones. 

And Eddie Vedder would be seen all over the world wearing the Drop Acid Peace Love Sex & Basketball t-shirt Brent gave him.